ADVERTISEMENT
Healthy Meal-Prep Recipes
Thai-Style Chopped Salad with Sriracha Tofu
Prep four day's worth of high-protein vegan lunches using just four easy ingredients from Trader Joe's, including one of our all-time favorite salad mixes--Cruciferous Crunch--as a base. Because this salad mix is hearty, you can dress these bowls up to 24 hours before serving to allow the flavors in this healthy chopped salad to marry.
Green Goddess Quinoa Bowls with Arugula & Shrimp
We're taking advantage of all the healthy items you can find at Trader Joe's to create these healthy meal-prep lunches. To add extra protein (while minimizing prep time), we're using Trader Joe's fully cooked quinoa and cooked shrimp, both of which you can find in the freezer section. With a few more simple items, including bottled salad dressing, you'll have all the ingredients you need to make these high protein lunch bowls in under 20 minutes.
Middle Eastern Salad Bowls with Farro & Chicken
We're pairing two Trader Joe's fan-favorite products--the Middle-Eastern Balela salad with beans and spices and 10 Minute Farro--to add protein, fiber and satisfying texture to these high-protein lunch bowls. To cut down on prep time, we're also using pre-seasoned grilled chicken breasts from the refrigerated section, bottled balsamic vinaigrette and a few other ready-to-use ingredients you can find at Trader Joe's to make these quick and easy meal-prep lunches.
Spinach & Strawberry Meal-Prep Salad
One of our most popular salad recipes, Spinach-Strawberry Salad with Feta & Walnuts (see Associated Recipes), gets a makeover in these simple yet totally satisfying meal-prep spinach salad bowls. They require minimal prep and can be customized to your taste. Swap in roasted salmon for the chicken thighs, and almonds or pecans for the walnuts, and use any fresh berry that looks good at your market.
Roasted Butternut Squash & Root Vegetables with Cauliflower Gnocchi
Take cauliflower gnocchi to the next level with these hearty, plant-based meal-prep bowls. Here we double up our Roasted Butternut Squash & Root Vegetables recipe (see Associated Recipes) and combine it with white beans, pesto and store-bought cauliflower gnocchi to make a week of healthy meal-prep lunches. You'll have leftover roasted veggies, so plan to use them as easy side dishes for dinner throughout the week or incorporate them into another recipe, like Creamy Roasted Vegetable Soup with Chicken or the Piled-High Greek Vegetable Pitas (see Associated Recipes).
More Healthy Recipes
More Meal Plans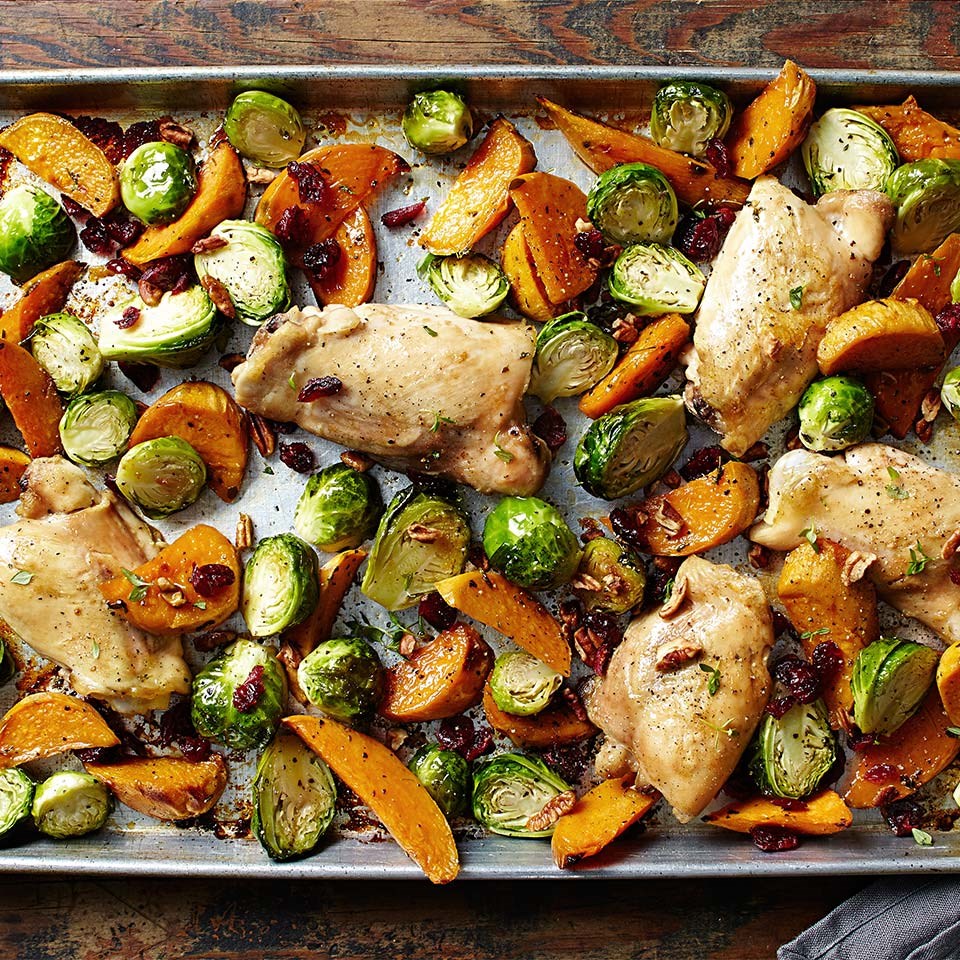 By Victoria Seaver, M.S., R.D., C.D.
Digital Meal Plan Editor
• High-Protein Meal Plan: 1,200 Calories
• 30-Day Low-Carb Meal Plan
More Meal Plans
ADVERTISEMENT