Our Best New Recipes from the Latest Issue of EatingWell Magazine
Our July/August issue is out, which means summer has officially arrived! You'll find dozens of new recipes featuring the best farmers' market finds, everything you need to throw a killer party (from cocktails through dessert), plus plenty of inspiration to get grilling—think Zucchini Fritters with Dill Yogurt, Chipotle Chicken, Halloumi & Grilled Romaine Salad and Stone-Fruit Pavlova. We hope you enjoy these healthy recipes as much as we did creating them.







Our Top 50 Recipes of the Year
If you're looking for new healthy recipes to add to the rotation, why not start with this collection of our most popular recipes readers love?








Recipes That Have Gone Viral
Some recipes just hit the right note and make the Internet go crazy. What makes a recipe go viral? Surprisingly, it's not crazy rainbow colored treats or semi-homemade hacks. For EatingWell fans, vegetables are the shining star—and we couldn't be more proud. Take a look at our most popular healthy recipes you need to try.
ADVERTISEMENT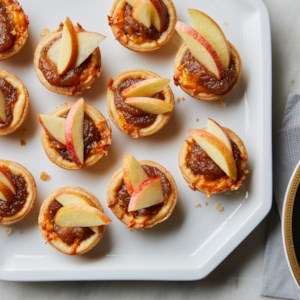 3-Ingredient Cheddar & Apple Bites
1
Creamy apple butter and sharp Cheddar cheese are a perfect match in these easy party hors d'oeuvres. This recipe calls for prepared pie crust, which is pressed into mini muffin tins to make little tart shells, so it's super easy to make as well. Add slices of apple for extra crunch, if you'd like, or keep these bites simple. Either way, consider making a double batch--they'll go quickly.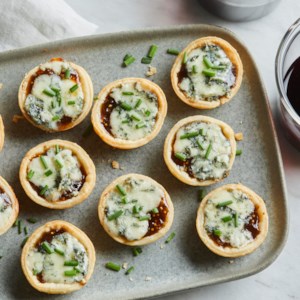 3-Ingredient Blue Cheese & Fig Bites
1
Salty-tangy blue cheese pairs beautifully with sweet fig jam in these easy appetizers, which are perfect for a holiday party. The optional minced chives add a nice pop of color, but these are just as tasty without herbs. Keep the ingredients on hand and you can whip these up for impromptu holiday cocktail parties.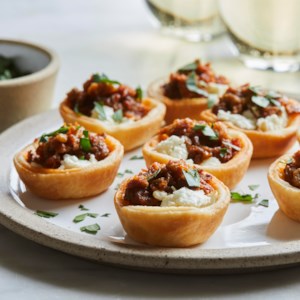 3-Ingredient Goat Cheese & Sun-Dried Tomato Bites
1
These pretty hors d'oeuvres are perfect for holiday parties. And they're super-easy to make, thanks to premade pie dough. Simply press the dough into mini muffin tins to make tart shells, then fill with goat cheese and sun-dried tomato tapenade. (If you can't find sun-dried tomato tapenade, you can use sun-dried tomato pesto instead.) Chopped parsley is a pretty garnish if you're open to adding a fourth ingredient.

Peppermint-Chocolate Greek Yogurt Bark
1
This eye-catching frozen peppermint-chocolate bark was inspired by Williams Sonoma's Original Peppermint Bark--our loose interpretation of the treat is frozen and made with Greek yogurt, chocolate and crushed candy canes. For the creamiest bark, be sure to use full-fat yogurt, as fat-free yogurt can get icy when frozen. Serve this healthy dessert when you want all those festive holiday flavors in a lightened-up--and totally delicious--package. Just don't stuff your Christmas stockings with this bark because it melts quickly.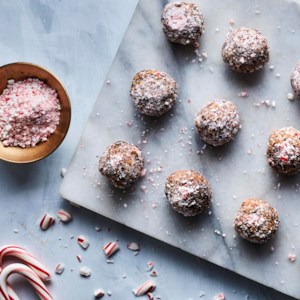 Chocolate-Peppermint Energy Balls
1
These festive no-cook energy balls have all the flavors you love in peppermint-chocolate bark but in healthy snack form. Whip up a batch for an office or after-school treat, or take them along to a holiday cookie swap. The recipe is easily doubled or even tripled. Be sure to store the bites at room temperature rather than the refrigerator--the moisture from the fridge will melt the candy cane coating.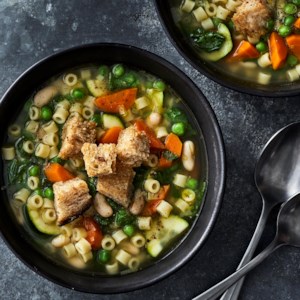 Vegan Minestrone Soup
1
Is minestrone soup vegan? It can be, with the right ingredients! This vegan minestrone soup is heavy on the green vegetables (it has peas, zucchini and kale, to name a few!), setting this quick healthy soup recipe apart from the rest. If you miss the tomatoes, feel free to add them to the mix. Last but not least, enjoy the crispy garlic croutons that float on top and soak up the flavorful broth.
ADVERTISEMENT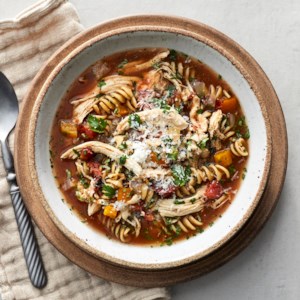 Mediterranean Slow-Cooker Chicken Noodle Soup
1
This slow-cooker chicken noodle soup fits nicely into the Mediterranean diet thanks to plenty of vegetables, lean chicken breast and whole-wheat pasta. Pair it with a salad and toasted whole-grain bread for an easy, healthy dinner.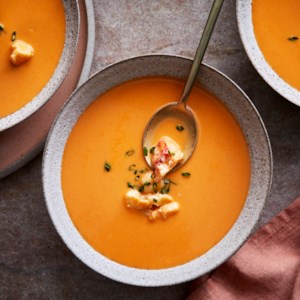 Lobster Bisque
1
The secret to this richly flavored lobster bisque recipe lies in the shells from the lobster tail that get pureed into the soup itself. This is one appetizer soup that will really wow your guests! Be sure to strain the soup through a fine-mesh sieve twice to get the traditional smooth, creamy texture.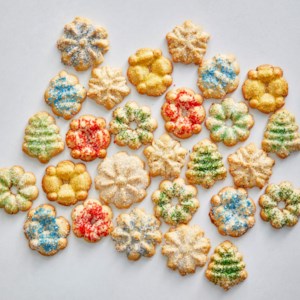 Spritz Cookies
1
It's time to break out your spritz cookie press for these festive Christmas spritz cookies! These easy Christmas cookies can be decorated with sprinkles or flavored with citrus, spices or sweet sugar glaze. And if you're looking for healthy cookies, these fit the bill thanks to whole-wheat pastry flour that keeps their texture soft while giving them a boost of fiber. For ideas on how to dress up these spritz cookies even more with different flavorings or a glaze, see Tips below.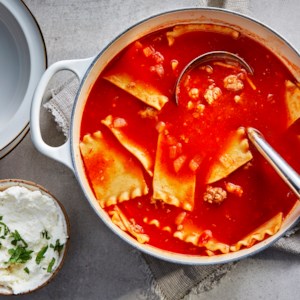 Lasagna Soup
1
This quick and healthy lasagna soup recipe has all the comforting flavors of classic lasagna with plenty of tomatoes, Italian turkey sausage and lasagna noodles broken into bite-size bits. A dollop of ricotta cheese mixed with mozzarella and Parmesan adds a creamy finishing touch. Serve the soup with a green salad and crusty bread to sop up what's left in the bowl for an easy healthy dinner that's ready in under 30 minutes.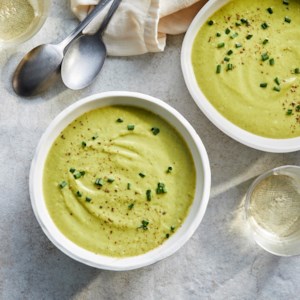 Cream of Broccoli Soup
1
This simple and healthy cream of broccoli soup recipe gets its flavor from a mixture of aromatic vegetables, including leeks and celery. Using an immersion blender (or regular blender) gives it a smooth, creamy texture. Enjoy this easy homemade cream of broccoli soup as a comforting appetizer or pair it with a sandwich or salad for lunch or dinner.
ADVERTISEMENT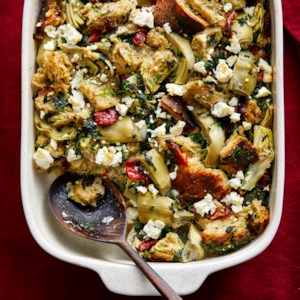 Christmas Breakfast Casserole
Enjoy this Mediterranean-inspired Christmas-morning casserole while you open presents. Breakfast casseroles are perfect for when you have a crowd to feed, and you can make the prep even quicker by tearing the bread into pieces the night before.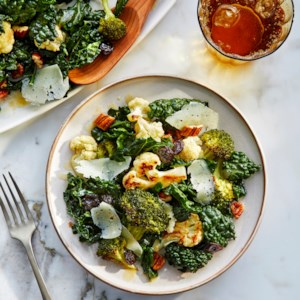 Broccoli & Cauliflower Salad
1
This festive holiday salad recipe features plenty of oven-roasted broccoli and cauliflower combined with massaged kale. Why massage the kale? It helps tenderize the leaves and infuses the sweet-tangy flavor of the dressing directly into the heart of this healthy winter salad.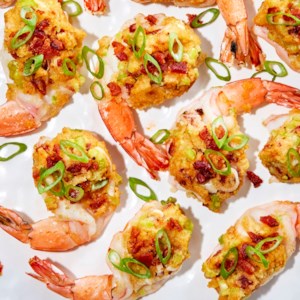 Baked Stuffed Shrimp
1
Stuffed shrimp make a quick and easy appetizer perfect for holiday parties. The trick to great stuffed shrimp? Make sure your shrimp are large enough to hold the filling. We recommend jumbo shrimp, which easily encase the savory filling of scallions, breadcrumbs and bacon with just a hint of spice from cayenne pepper.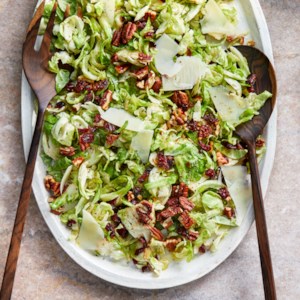 Shaved Brussels Sprout Salad
1
This raw Brussels sprouts salad featuring shaved Brussels sprouts, toasted pecans, sweet-tart cranberries and nutty Parmesan cheese is tossed with a light and lemony vinaigrette. You can shave the Brussels sprouts using a chef's knife--or use the slicing attachment of your food processor to make it even easier. This quick and easy recipe is perfect for fall or anytime you have crisp, fresh Brussels sprouts on hand.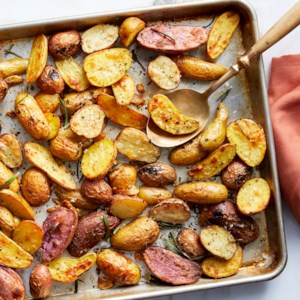 Roasted Fingerling Potatoes
1
Oven-roasted fingerling potatoes can be a special holiday side dish, but they're quick enough to enjoy on a weeknight too. The secret to these crispy roasted fingerling potatoes? Getting the baking sheet nice and hot before you spread the potatoes on it.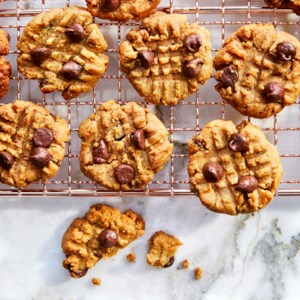 Peanut Butter Chocolate Chip Cookies
1
Kids and adults alike will love this easy peanut butter chocolate chip cookie recipe, which--unlike most cookie recipes--doesn't call for flour. These gluten-free peanut butter chocolate chip cookies are soft and chewy and, with only five simple ingredients, they can easily be whipped up by young chefs and enjoyed as an after-school treat. They're also perfect for a holiday party or for a cookie swap.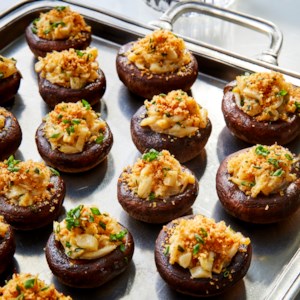 Crab-Stuffed Mushrooms
1
This crab-stuffed mushroom recipe is perfect for Christmas, New Year's Eve and other holiday parties or any other time you need a quick and easy appetizer. The filling is light and fresh thanks to hearts of palm, a tender vegetable with a mild flavor (similar to artichokes) that doesn't mask the rich, sweet flavor of fresh crabmeat.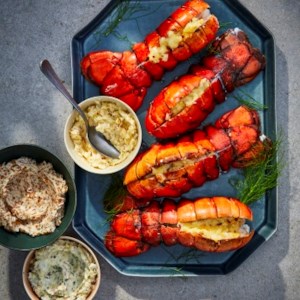 Broiled Lobster Tails
1
This easy holiday appetizer calls for lobster tails, the meatiest part of the lobster, which you can buy fresh or frozen. We've also included three easy and delicious compound butters to choose from to pair with the lobster meat: this recipe makes classic lobster thermidor butter, with the rich mix of Parmesan cheese, herbs and brandy; see Tips (below) to swap in an earthy porcini mushroom butter or a bright fennel and lemon butter.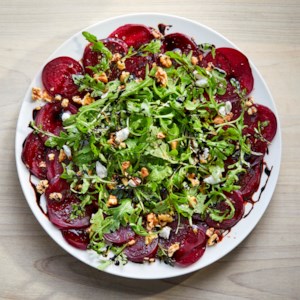 Beet & Goat Cheese Salad
This stunning winter salad gets its sweet, earthy flavor from roasted beets and balsamic vinegar. Creamy goat cheese and peppery arugula add color and balance, while toasted walnuts add crunch. A mandoline is the best way to get thin, even slices from the roasted beets.